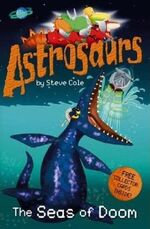 The third book in the Astrosaurs series, The Seas of Doom follows the adventures of Captain Teggs, Gipsy, Arx and Iggy on the sea planet of Aqua Minor.
A group of cryptoclidus fishermen on Aqua Minor are having some big problems - something very large, very mysterious, and very dangerous is tearing up their ships and factories. They call the astrosaurs for help, and when they explore the depths of Aqua Minor Teggs and his crew encounter a strange creature who claims to have lost a spaceship nearby...
Collector's Cards
Edit
Cards Included
Edit
Additional Cards
Edit
Prehistoric animals featured
Edit
Cover Gallery
Edit
Additional Links
Edit
Ad blocker interference detected!
Wikia is a free-to-use site that makes money from advertising. We have a modified experience for viewers using ad blockers

Wikia is not accessible if you've made further modifications. Remove the custom ad blocker rule(s) and the page will load as expected.