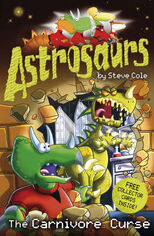 The Carnivore Curse is the fifteenth book in the Astrosaurs series. In it, the baryonyx ruler, King Jeck is down with the Ribchomper's Mump Bumps. Teggs and his crew are trying to cure the ruler of Baronia before he dies-or his wicked nephew, who's next in line to the throne, starts a devastating space war! With the help of the sellosaurus doctor Doctor Herdlip, the astrosaurs try to help the king- but a vicious monster is on the loose! The cover art features the massive, drooling carnivore creature bursting through a laboratory wall and terrorizing Arx, who is standing nearby. This is the 15 book of Astrosaurs.
Cards Included in it
Edit
Prehistoric animals featured in the carnivore curse
Edit
Ad blocker interference detected!
Wikia is a free-to-use site that makes money from advertising. We have a modified experience for viewers using ad blockers

Wikia is not accessible if you've made further modifications. Remove the custom ad blocker rule(s) and the page will load as expected.