Welcome to Steve Cole Books Wiki
The wiki about Steve Cole's books and creations that
anyone can edit
To talk about the wikia, the books or more, please visit Our Forum or the main page's discussion page (See link in the top right corner). Thanks.
604 articles since July 2008
Most Wanted Pages!
Please Create These Pages And Help Make Steve Cole Books Wiki A Better Place.
P.S Once you have created one of the requested articles, please replace the link with another wanted article. Thanks!
P.P.S If you found other wanted articles, please add it to the bottom. Thanks!
Helping out
To write a new article, just enter the article title in the box below.
Please Also Check Out Our "Stubs" Pages And See If You Can Add Any More Information. Thanks In Advance, From Starters Slitheen. Plus To Nominate An Image Or Quote To Be Featured On The Front Page Go To Nominations Central! If you want to get involved with the wiki, visit this wiki's discussion page.
Image Of The Month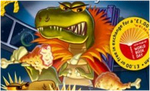 A really cool image of this T-Rex, Braxus graces your IotM viewing screens. It's a GLORIOUS moment. Savor it. Go on, savor the moment.
Ooooh, savory.
Quote Of The Month
"Dino-riffic!" - Ick, Wick, and Honko, Christmas Crisis
Article Of The Month
Prince Poota is the AoTM for October, for the second time! Check back on its write up last time on the Nominations Central page. it's still as awesome as it was back then.