Raptor Border Patrol

Full Name

Velociraptor Border-in-Order-or-Instant-Death Patrol

Age

Various

Rank

Patrol raptors

Planet Of Hatching

Raptos

Likes

Blasting down illegal craft.

Dislikes

Being tricked by plant-eating scum.

DSS Rating

8 - These raptors shoot first and ask questions later.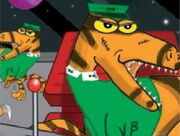 The Raptor Border Patrol is a gang of specially bred raptors who patrol the edge of the Vegmeat Zone in raptor death ships, blowing up any herbivore ship which violates the border space and enters the Carnivore Sector without permission. Arx and Gipsy, accompanied by Dasta and Ardul (in (Teggs's and Iggy's bodies respectively), encountered a raptor patrol ship on their way to the Geldos Cluster to claim Dasta's replicator, and Arx defeated the raptors by tricking them into being blown up by the Sauropod's dung torpedoes. Patrol raptors wear green uniforms and peaked hats that are marked with the symbol VB.